As B2B companies shift their focus from big complex enterprise sales towards a simplified offering centred around a "land & expand" sales model, the team responsible for customer development (often called Customer Success) becomes a critical engine for growth. If new customers are landed on a small and simple solution (with low profitability for the company), Customer Success needs to ensure that it is not only retained but also grown in volume (how much they buy) and value (what they buy).
To do so, Customer Success needs to act less like customer service and more like an Inside Sales function by working towards:
1. Less reactive order taking and more proactively addressing opportunities for value creation
2. Less ad-hoc problem solving and more structured account development
3. Less question answering and more giving value & asking the right questions
Selling is about helping customers identify and realise opportunities for value creation. When your customer success team does this, both customer & company wins.
As the customer conversion point moves back, a sales-focused Customer success team becomes critical for profitable growth
The avg. win rate is 4-12x higher when selling to an existing customer compared to a new potential buyer. In other words, the ROI on selling to existing customers is higher than selling to new potential buyers.
This insight is the driving force behind one of the most common commercial development plays we are seeing commercial leaders make these years, to accelerate growth;
Move the customer conversion point back: Instead of attempting to land the customer on a big enterprise sale (customer conversion point late in buying journey), focus on landing the customer on the easiest sell you can make and expand from there (customer conversion point early in buying journey. (Example: B2B SaaS Freemium versions of software, e.g. Hubspot, LeadFamlyFree etc.)
Strengthen customer success as a commercial engine: Focus on developing customers from low (and often unprofitable) levels of adoption to higher volume (How much they buy) and value (what they buy).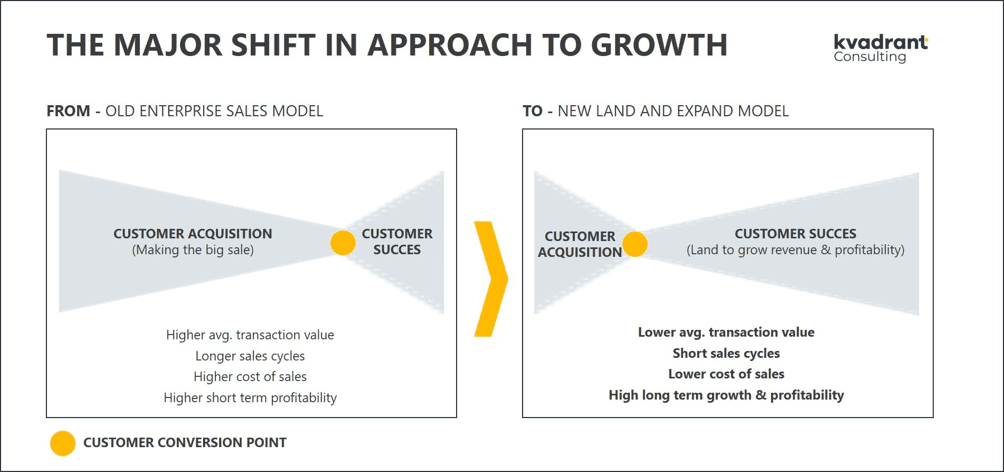 Adding further to the popularity of this growth play is that it doesn't force the commercial leader to choose between whether the focus should be on customer acquisition or customer growth/retention. It does both.
The trade-off is sacrificing short term profitability (new customers acquired at lower avg. or even negative profitability), for long term revenue growth, profitability and equity value creation. A trade an increasing number of commercial leaders are making these years.
1.
Less reactive order taking and more proactively addressing opportunities for value creation
The primary driver of customer loyalty for B2B companies is the sales experience. Consequently, when the Customer Success team assumes more responsibility for sales and growth (i.e. the customer conversion point moving back), the requirements for them to act in accordance with the wants of B2B buyers increases.
What buyers want in a complex B2B selling environment is not a (reactive) problem solver and order taker, but someone who demonstrates an understanding of their business and (proactively), inspires and pushes the customer to realise opportunities for value creation (see illustration below).
Characteristics of Best Performing B2B Sales People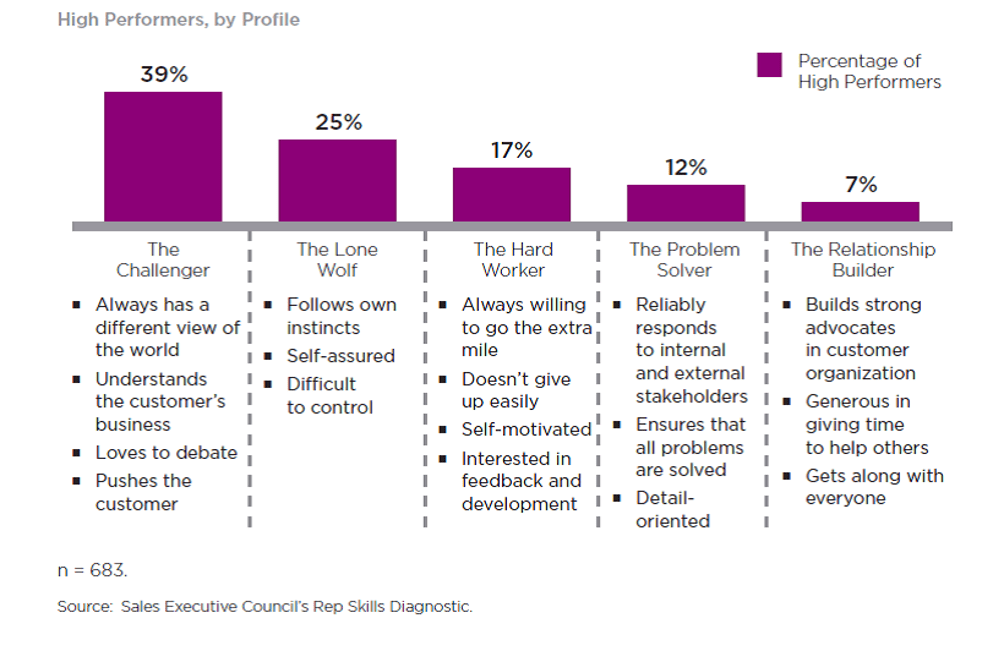 This shift from having a reactive and problem-solving orientation to being proactive and focused on identifying and realising opportunities for value creation is especially challenging for customer success teams that originate from the customer service function. Challenging but critical.
Although proactivity is a key driver of good customer experience, it is also the place where B2B companies typically perform the worst, with only 25% assessed to perform this task well.
TAKE ACTION: What it means for sales-focused Customer Success teams
1. Proactively use insights about what other similar customers are doing (benchmarking), assign more value to existing solutions or get more value by expanding the solution (e.g. product recommendations based on purchasing patterns of similar buyers)
2. Proactively use insights about what the customer is doing to help customers get more value (e.g. personalised product recommendations based on purchasing history)
3. Organise in industry expertise groups to match buyers with Customer Success Reps who have a deep understanding of their tasks, pains & drivers (e.g. Healthcare focused team, Retail focused team etc.)
2.
Less ad-hoc problem solving and more structured account development
As the customer conversion point is moved back, the need for Customer Success to take the customer on a journey of adoption, expansion and advocacy increases.
If Customer Success is anything like their colleagues in sales, where almost 60% don't use account planning for the strategic accounts, we know this is an area for improvement. This is critical subject as a lack of account planning leads to a significant decline in win-rates for forecasted deals.
Core activities at various stages of the customer buying process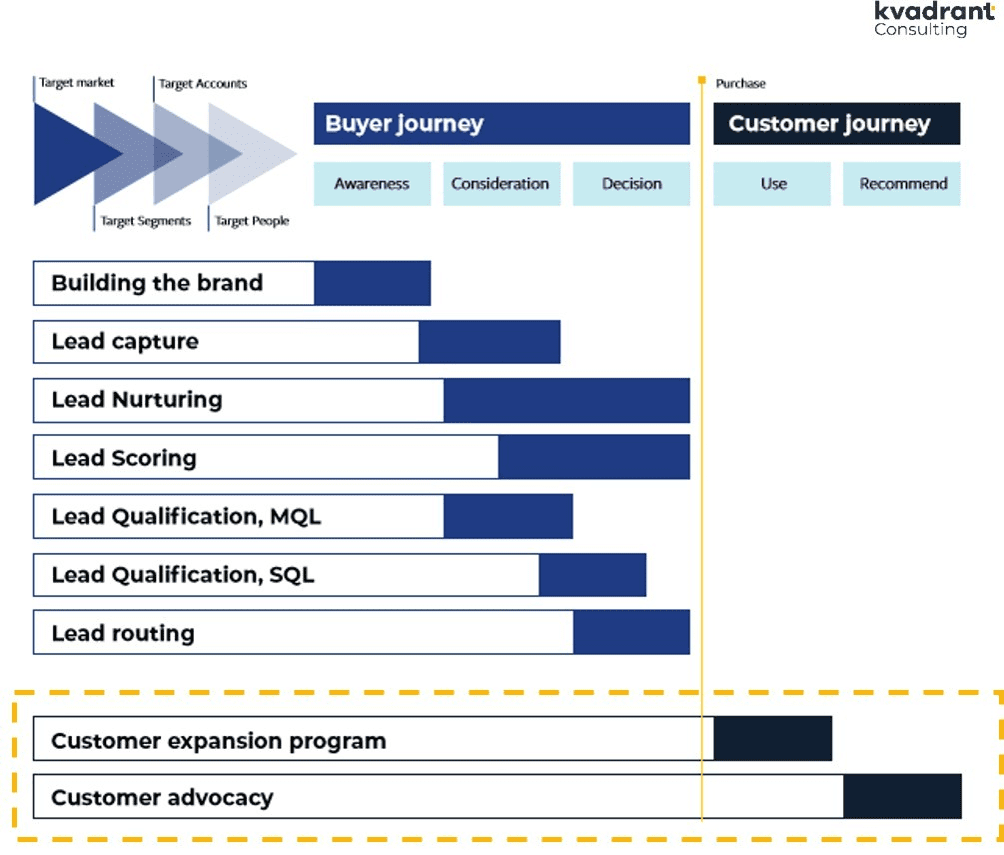 Commercial organisations are typically structured around how the buyer journey (pre-purchase) is managed with a clearly defined sales process. However, this is not the case for the customer journey (post-purchase), where still few companies have a clearly defined roadmap for how to turn new customers into becoming great customers who advocate for the company.
Bridging this gap becomes critical as the customer conversion point moves back.
TAKE ACTION: What it means for sales-focused Customer Success teams
1. Define a clear desired customer development journey for the first 100 days and first year, in a playbook used by Customer Success to take a proactive approach to customer development.
2. Install an account management and development meeting rhythm, where customer status & development calls are continuously scheduled three months in advance (e.g. monthly calls booked for next three months (frequency depending on size and potential of customer))
3.
Less question answering and more giving value and asking the right questions
One of the key principles for successful sales & marketing is "Give value to Get value". (E.g. Give an e-book through a website download form to get contact information and permission to contact. Give an article with valuable insights to get 10 minutes of a potential buyer's time).
As Customer Success assumes more responsibility for creating and realising sales opportunities, this principle moves beyond the initial purchase point.
Moving from being reactive to proactive means that the sales-focused Customer Success team transitions from delivering value by being great at answering questions (problem solvers) to delivering value through inspiration and advice on how the customer can address new opportunities for value creation (e.g. through sharing relevant research, insights and trends..)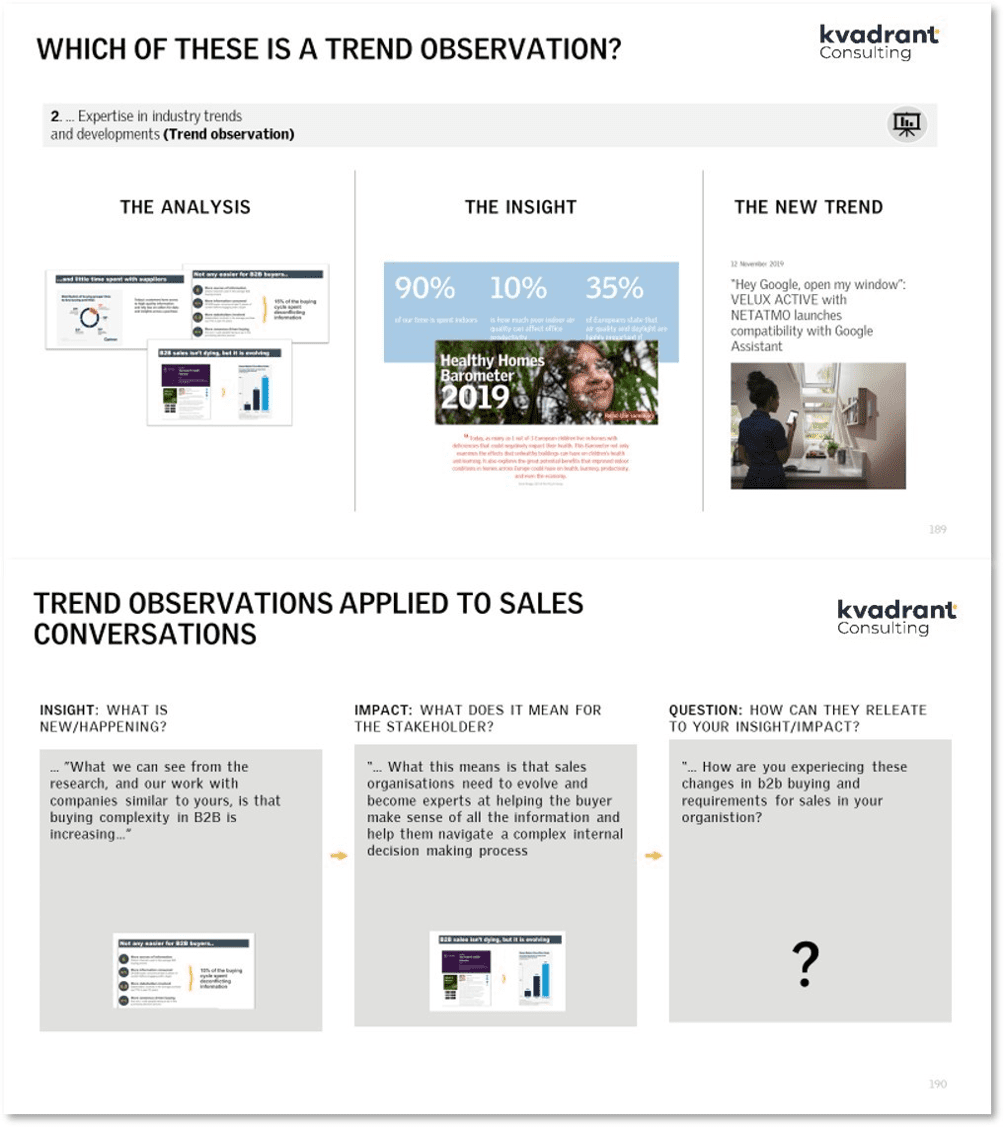 TAKE ACTION: What it means for sales-focused Customer Success teams
1. Strengthen collaboration between marketing and Customer Success through monthly meetings where marketing shares relevant knowledge and assets to use as "Value Gives" with customers. Also, Customer Success makes requests for collateral to be developed
2. Enable the Customer Success team to translate value gives into customer conversations by creating a 1-pager with guidance on how Insight could potentially Impact customers' business and what the good question is to move the conversation forward.
3. Make it a habit that Customer Success Managers share relevant "value-gives" before monthly status/development calls with customers to drive the conversation towards opening up new sales opportunities (i.e. opportunities for mutual value creation).
Start small and scale big
Transitioning Customer Success from a reactive service function to a proactive growth engine doesn't have to be (and shouldn't be) conducted as a big transformation program.
It starts by selecting one customer segment where the potential for growth is assessed to be the greatest. In this way, the company will be able to test the approach and learn from initial results before building the business case for a broader transformation.
If successful, both the customer and your company win.
Sign up for our newsletter
Monthly insights to your inbox
Latest B2B Sales & Marketing content from Kvadrant
C-level focus on commercial transformation
It's better to be approximately right than exactly wrong."- Carveth Read, 18th century author In this article, we will cover: Knowing what to measure & which goals to focus on How to evaluate success as a critical part of modern B2B marketing A measurement...
read more

Bredgade 20 1st floor
1260 Copenhagen
Denmark