Executive Event (Finished)
Buyer Enablement – The New Way of Selling in B2B
Theme
Join the Commercial Executive Event to learn about the best-practice buyer enablement tools in B2B  for sales & marketing and get inspiration on how one B2B company is using them to accelerate growth (Brian Andersen, Senior Director @ Jabra)
Participants & place
Who: For Senior Commercial Executives in Business-To-Business companies (by invitation only, free of charge).
Where: Kvadrant Consulting Offices:  Bredgade 20, 1260 Copenhagen.

Date & Time
The 24th of January, 2020
From 08.00-10.30 (light breakfast between 08.00 and 08.30)
Buying is getting increasingly difficult. A majority of buyers report that buying is getting more complex, that they loop back in the decision-making process and spend an increasing amount of their time deconflicting information.  Going forward,  the role of Sales & Marketing is to help potential buyers through this process and solve the related buying tasks with the right activities and tools. 
This event puts the spotlight on how Marketing & Sales can go from selling products to enabling buying. It includes concrete frameworks, tips on how to commence the transformation, and a practical example from Jabra. 
AGENDA: 
08.00 – 08.30: Light breakfast
08.30 – 09.00: The 'Why' of Buyer Enablement: Why buyer enabling Sales & Marketing organisations grow more than their competitors and what a buyer enablement platform looks like (by Thomas Børve, Managing Partner at Kvadrant Consulting)
09.00 – 09.45: Buyer enablement put to life: How Jabra has transformed its Marketing & Sales approach from product-centric to buyer-centric (By Brian Andersen, Senior Director at Jabra)
09.45 – 10.00: The transformation in pracitce: How you transfer your organisation to become buyer-enabling (By Martin Mariussen, Partner at Kvadrant Consulting)
10.00 – 10.30: Q&A, executive discussion 
We reserve the right to cancel event registrations from people that fall outside the network and the target audience of this event.

Note that is possible to park at 'Ofelia Plads' and in the car park at 'Dronningens Tværgade'. Both locations are in the distance of a three minute walk from the office.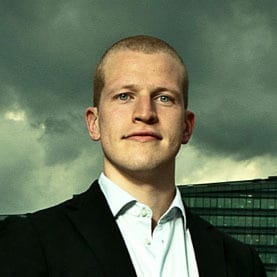 Brian Andersen
Senior Director at Jabra


Bredgade 20 1st floor, 1260 Copenhagen
+45 40410043
contact@kvadrant.dk
Kvadrant ApS, CVR: 39598736
DANSKE BANK,
Kontonr.:3409 / 12621035