Commercial Strategy
Understand your outset, make the right choices and outline the coherent set of actions to boost profitable, organic growth
We help commercial leaders through the strategy process from research to decision-making and activation
"Commercial Strategy is on-going decision making on how to best realise identified revenue opportunities, not a 3 year planning exercise"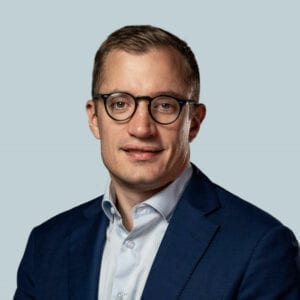 Mikkel Bach-Anders, Partner Kvadrant
+4540411331
The environment in which your commercial organization operates is changing. Customer demands, technologies and service models, are rapidly developing, setting new standards and creating opportunities. As a consequence companies need to revisit their commercial strategy with high frequency and answer questions like:
Which markets do we focus on?
Which customers do we focus on?
What do we offer for these customers?
How do we win those customers in the most profitable way?
How do we grow and retain our customers most effectively?
Commercial strategy development is the process and discipline of answering those questions and translating them into a coherent set of actions for operations and development.
Segmentation and Value Propositions
Joint Sales & Marketing Go-To-Market Programs
What we do
Commercial strategy is design of a coordinated set of actions across sales & marketing, to take advantage of key opportunities for value creation.
Research & analysis: Help companies understand market, industry and company situation and dynamics that share strategic decision making
Strategy development: Help companies understand most critical opportunities and challenges to address, define their guiding commercial strategy policy and build the transformation roadmap.
Implementation support: Support implementation by aligning Sales & marketing organziations around common goals and coordinated actions to unlock growth and efficiencies
Featured download
Covid-19 Commercial Leadership Playbook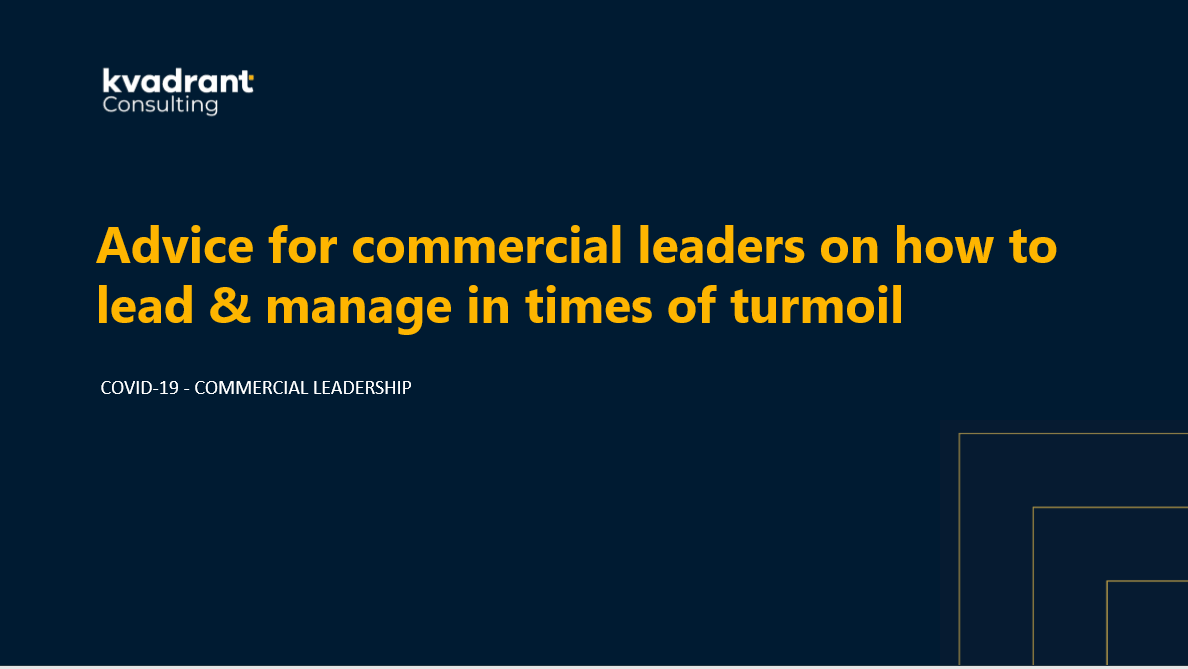 How we work
Strategy development with Kvadrant Consulting typically follows a 5 step process, where we are involved in all or selected parts of the process, depending on the specific situation and client needs.
Although the initial creation of a clear and coherent strategy report is a linear process with the commercial leadership team, subsequent work on working with the strategy happens in an iterative process as new knowledge as added and old assumptions are challenged.
1. Understand context & challenge for commercial strategy to solve: Meeting with CEO/CRO/CCO to understand company, context and what challenges the commercial strategy needs to solve
2. Research & preparation for commercial executive strategy workshop: Gather data from internal and external sources to prepare for initial decision-making and strategy design by executive team
3. Executive workshop to prototype strategy: 2-day work session with sales & marketing leadership to align og commercial opportunities and challenge to focus resources towards, key issues to solve, prototyping of strategy to win and definition of next steps
4. Test, revise & cascade: Qualify critical assumptions underlying the strategy designed with additional research and work with sales & marketing management to cascade commercial strategy into sales & marketing development and operations
5. Create the strategic narrative & governance model: Write strategic narrative with key insights, conclusions, decisions and actions from strategy process and implement strategy governance model
While the outcome of the strategy process is a tangible document describing which opportunities and associated challenges sales and marketing leaders will focus operational & development resources towards, why and how it will be done, this is just the starting point towards greater value creation from better use of commercial resources and closer collaboration between sales & marketing.
It is the foundation for guiding operations and subsequent transformation initiatives, but not the end destination
Case in point
European leader in commercial technology for the pharmaceutical industry was experiencing declining growth rates and declining prices, due to growing pressure from the competition and commoditisation in  their traditional core product.
The CEO needed to identify the strategy to counter these developments and move the company onto a new sustainable growth trajectory with the rest of the executives aligned around these decisions.
Over 3 months, the company partnered with Kvadrant Consulting to kickstart this process and were able to craft a joint strategy for the company with associated functional strategies, supporting the achievement of their new winning ambition.
Our Latest Thinking on Commercial Strategy
Commercial Leadership
The New B2B Playbook
Sales Excellence
5 Reasons Commercial Executives are Doubling Down on Inside Sales
Want to explore the rest of our expertise areas?

Bredgade 20 1st floor
1260 Copenhagen
Denmark