Grow smarter.
A changing B2B buying environment requires a new sales & marketing approach. We help sales and marketing leaders take advantage of new commercial opportunities, from strategy to transformation
WE HELP COMPANIES GROW SMARTER
Select area of interest
Proud commercial development partners to these, and many others

DEVELOP YOUR

SALES

&

MARKETING

ORGANISATION
TAKE ADVANTAGE OF

NEW COMMERCIAL OPPORTUNITIES

Navigating forward is difficult, especially in times of great change and turbulence. This is surely true for the commercial leaders of today.
B2B buying is changing dramatically; More customer stakeholders are involved in each purchase creating a more complicated buying cycle. Benchmarking solutions is easier than ever making the appetite for conversations with traditional sales people non-existing.
It is a tall order but Sales & Marketing organisations are not left without opportunites to meet these changes; An abundance of digital tools are available to ignite growth and productivity. Vast opportunity exists for getting ahead of competition for those who seize the online possiblities and integrates marketing and sales to capture the attenttion and create superiour buying experiences for target buyers.
The quadrant/kvadrant was a simple yet effective tool used by Vikings and traders in the middle ages to navigate at sea when out of sight of land.  It was a simple and reliable tool to safely move forward towards their destination using their environment to their advantage.
At Kvadrant we help Sales & Marketing organisations make the right choices and develop the right skillset to move forward, take advantage of their environment and win in their target markets.
"Over the course of 6 months, Kvadrant has helped os develop and implement our commercial strategy from which we are now seeing tangible business results"
Kathrine Bach
"Thank you for the support and guidance on implementing concrete marketing tools in our business. The approach was very helpful and will impact the work of marketing and sales here"
Marina Teigeler
"Kvadrant did an excellent job managing & supporting the implementation of a new sales methodology across Europe at Wavin. The team was very personable and professional"
Bo Vestergaard
"Thanks for  helping us put structure to how we talk and act in our sales organisation. Concrete tools implemented in a way that will make a difference"
Esben Sørensen
"Kvadrant has helped us restructure our digital marketing activities with the contagious enthusiasm and professional commitment of Thomas & Martin"
Kristian Eiberg
"Thank you for the help over the last 2½ months! The methodology is spot-on, and have really helped me in acting with a new and more commercial perspective"
Laura Nielsen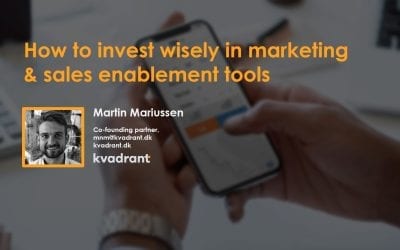 Have you heard, that digital is the word? #Digital If you´re in B2B marketing and sales right now and live on this planet, chances are that you have (... or any other industry and function for that matter..) #Digitalmarketing #Digitalsales #B2B With spending on...
Select your area of interest


Niels Hemmingsens Gade 20B 2. floor, 1153 Copenhagen
+4540410043
info@kvadrant.dk
Kvadrant ApS, CVR: 39598736
DANSKE BANK,
Kontonr.:3409 / 1262103