Customer Success, a function that saw it's rise within SaaS companies, is increasingly coming to more and more commercial teams. The function sits right between Sales, Marketing & the more traditional Support/Service, and can be difficult to get right.
In this article, we explore:
Why customer success has risen in popularity
How it fits alongside your existing commercial organisation
What it should focus on, particularly in a non-SaaS environment
A framework for setting it up from scratch
Why customer success – the story of the consumption gap in complex B2B
Companies offering complex solutions need to understand the difficulty for buyers to buy and mitigate the risk of buyer's remorse.
In fact, 77% of B2B buyers state that their latest purchase was overly challenging.
And when asking buyers who regretted their purchase, 58% of buyers say unmet expectations was the primary reason why.
It begs the question: Why do so many buyers regret their decision?
Often it is due to the results of added complexity, and the phenomenon knows as the consumption gap.
Over time, B2B companies add new product features to grow sales and justify their price tag. But as product features increase in numbers and sophistication, so does the complexity.
When complexity increases, the risk of customers' inability to utilize it to its fullest does as well. This leaves it vulnerable to commoditization and low-end disruption.
A product starts with a perfect match between features and the customers ability to use it, and the two drift apart over time as the product grows in features:
Case in point: A Grundfos pump
100 years ago, a pump transported water from A to B.
Today, pumps still do, but Grundfos pumps are now intelligent, can connect to an app, and adjust the flow of hot water, regardless of whether you live in a small house or on the 38th floor of a 5-star hotel.
A better but more complex proposition – not all customers value those things, and the difference between customer value and  the price of the product sow the seeds of low-end distruption.
Low-end disruption
Even though some companies have a superior product, they lose to low-end competitors because their solution catches up to fit customers' needs (or ability to use product features) – see figure below.
There is a clear need to lift customers' use of their products for B2B companies that offer complex solutions.
How do they solve this problem? Enter customer success.
Carving out customer success in the commercial function
Establishing a customer success function sounds like a no-brainer if it means we ensure customers don't switch to low-end competitors.
But one of the most common issues commercial leaders face is avoiding overlaps when implementing customer success with existing functions such as sales, professional services, and support:
Customer success is not sales because they have different goals, mindsets, and incentives
Customer success is not support because support is reactive, while customer success managers (CSM) are proactive and expect problems down the line.
In fact, customer success managers are a mix of sales and support.
And take on responsibilities that allow salespeople and support to do what they do best:
Salespeople build relationships, manage pipeline, and win customers
Supporters have deep product knowledge, deliver dedicated support, and ensure a high acceptance rate of SLAs (Service Level Agreements)
Customer success in a non-SaaS organization
For non-SaaS companies, establishing a solid customer success function delivers three benefits:
1.      Focus: Allow sellers to sell and support to support
While some sales teams initially are worried about another customer-facing function, it is a benefit because the sales team can offload the management of renewals, QBRs (Quarterly Business Review),  and small upsells.
2.      Move mindset towards retention
While the formal business model for B2B companies is not subscription, most sales come from existing customers through replacements, renewals, and expansion contracts – where the same economic incentives for CSM definitely apply.
3.      Protection against low-end disruption
Many B2B manufacturing companies, in particular, face significant low-end disruption threats – low-cost brands leveraging Chinese manufacturing to deliver "good enough" products. Customer success can help protect against that by ensuring maximum value is delivered.
A framework for implementing a customer success function
To build up a customer success function, commercial leaders consider six elements with both strategic and tactical nature: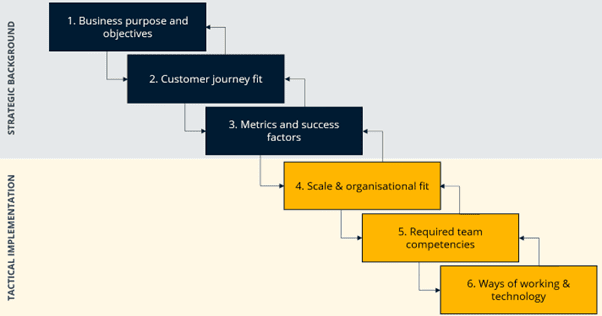 Define the purpose of having a customer success and the objectives
Understand where the function fits in the customer journey
Nailing down how to measure and incentivize the function
Where does it fit in the organization, and how to scale it
Defining which competencies are required to be successful, the required team competencies are
Equip the team with the right to technologies, tools, and most importantly, ways of working and processes
The framework's main idea is that it is circular. You must develop the function from a top-down perspective and iterate and adjust in a bottom-up fashion.
#1: Business purpose and objective
Not all customer success departments are created for the same reason. The business purpose & objective drives many of the other choices in building the team.
A customer success function's purpose could be (but is not limited to):
Protection focus: Improve retention, renew contracts, win-back lost contracts and departments.
Value focus: Create customer value, grow business engagement, ensure adoption, and minimize consumption gap.
Recommendation focus: One point of contact, fast and custom service, 10/10 NPS (Net Promoter System), friendly helper, concierge mindset.
Case in point:
Optimizely has a customer success team dedicated to prevent churn. Their software is easy to sign up to and easy to cancel. It must be seen to generate an effect.
Trustpilot has a customer success team with a clear objective of increased ARR by moving customers from Free, to Standard, to Custom pricing models.
Slack has a customer success team because adoption is everything. Enterprise messaging has a built-in network effect that must be fed to grow.
#2: Customer journey fit
Not all customer success departments play the same roles in the buying process. The hats they wear and the competencies they need depend on their role in customers' buying process.
Customer success functions' role in the customer journey could be:
Involve in the sales process. CSM as part of why you buy in the first place – or your trial guide
Customer onboarding owner. Immediately after contract signing, CSM takes over the whole process
Internal orchestrator. CSM is more of a project manager to the account manager
Consultative advisor. CSM steps in only once the solution is running
#3: Metrics & success factors
Metrics and goals drive behavior. Customer success must have separate goals from sales/support that guide their thinking and behavior to support the overall objective.
Metrics and goals for customer success managers could be:
Financial (retention, CLV (Customer Lifetime Value), increase customer ARR/NRR)
Engagement (product adoption, training, onboarding, time-to-value, last engagement)
Satisfaction (NPS, CSAT (Customer Satisfaction), case studies, active advocate)
#4: Required team competencies
Being a CSM is a complex and potentially wide-ranging role. Define the most important required team competencies that are also realistic to hire for.
However, the core competencies of a CSM can vary to a great extent.
Still, they should be matched up to #1 Purpose and #2 Customer journey fit.
Examples of competencies:
Industry and category knowledge
Technical expertise
Empathetic relationship builder
Consultative trusted advisor
Analytical and outcome-oriented
Training and facilitation skills
Solid project manager and communicator
Hats that a CSM could take:
The advisor/analyst CSM role: "I've looked at your usage data and I can see that…"
The concierge CSM: "I'm here for you, let me know whatever I can help with"
The product specialist CSM: "Did you know that you can also use this feature in that way?"
The business partner: "We succeed together and I help you find ways to grow and be productive."
#5: Scale & organizational fit
This step outlines where customer success fits in the organization, how big the team should be, and whether it owns all accounts. Consider the following reflections:
Building a CSM Business case: The scaling and leadership questions depend on the business case – what is our projected return on hiring dedicated staff for this function? Increased ARR, customer/employee satisfaction, etc., vs. the cost of the CSM team?
Segmenting the customer base: Should CSM own the whole base? Or just top X% customers?
Team size and scale: How many accounts should a CSM handle? Does our vision for a CSM fit with our business case? A CSM handling two accounts is quite different from one handling 20.
Organization and reporting structure: Where does the CSM function live? Does it have its own head of function or is it part of a wider team?
Leadership: Who leads and guides the CSM team?
Scenarios
"Champagne" accounts only. Extremely focused and dedicated CSM team on the biggest potential accounts – often reporting into sales
All customers, generic. CSM touches all customers. They are mostly the same type and are handled in the same way
All customers, segmented. CSM touches all customers. They vary in size and scope and are handled very differently
#6: Ways of working & technology
Customer Success needs the right tools, processes, and technology to be effective. It cannot rely on just asking the customer "how is it going" – it must provide its own value.
Potential core ways of working / delivery tools
Internal:
Renewals due this month/quarter/year
NPS score, gathering and reporting over time
Lifecycle stage overview and suggested activities for moments of truth
Customer Success playbook by segment/stage
Customer health scores (financial/product/engagement)
External:
Product usage metrics and reporting
Meeting/reporting templates for MBR/QBR etc.
Marketing-supported mass communication e.g., usage tips
E-learning platform and training/small video training
Potential technology involved:
CRM (Customer Relationship Management) integrated – additional fields and views needed
Customer support integrated – additional fields and views needed
Business intelligence dashboards
Dedicated CSM tools (such as InSided)
Closing thoughts
The question remains: Should B2B companies implement customer success functions or not?
To better get an idea towards decision making, consider five reflections from our end:
Large customer lifetime value: Does the business case work? It is hard to succeed if your CLV (customer lifetime value) is <1m DKK.
The gap between product and customer value. Can we measure or observe a gap between product features and what customers use? Is it large enough that we expose ourselves to low-end disruption or non-use?
Churn and retention risk. Is there significant churn already, and what drives that churn? There is a persuasive case if churn is driven by non-use or lack of perceived value.
Product and usage data to work with. Can we equip the CSM with data and tools that help them serve the customer? Not a deal-breaker but adds tools to the CSM arsenal.
Is the task effectively managed today? Are there account teams, professional services, or support teams that do the work today? What would happen if we specialized the organization further?
Want to discuss the fit and potential of customer success in the commercial function? Please don't hesitate to reach out to one of our experts.