After the longest economic expansion in recent history, business leaders are now faced with some initial indications that the economic tides might be turning.
The experienced leader will have seen it before and know that a potential recession like those before will come and go, but that how you manage it will have severe and long term implications for the company.
Research from the previous recession shows that some companies not only survive the crisis but come through it thriving, increasing annual sales by 9% and profitability (EBIT) by 3 pct. points, while in general, companies see a sales decrease of 2%.
The message from the CEO to Sales & marketing leadership should be that they play a key role in balancing the company's need for operational cost-cutting while reducing risks of topline impact and long term growth. History shows, that those companies that fare well during and after recessions have two things in common: They prepared well and acted fast both when the downturn hit and when the following uptake came.
Of course it is not up to the CEO to provide the blueprint, but her involvement in qualifying needed preparations and push for timely action could quickly show very valuable. The CEO could insert her self in these important conversations by asking three key questions to Commercial Leadership.
Three key questions for Commercial Leadership when the downturn hits:

Cut: How will we improve efficiency and effectiveness in commercial operations?
Focus: What high-value accounts and deals do we focus resources towards?
Invest: When do we start investing to take advantage of recession opportunities?
Exhibit 1
Business Cycle Management Through Commercial Leadership
On top of that, both sales and marketing – and the customer´s way of buying – are becoming increasingly tech-enabled. This tech-enablement provides amble of opportunities for collaboration, insight sharing, task automation and much more. Opportunities that are rarely grasped by the current – and often siloed – way of operating.
1.
CUT: Reap operational efficiency gains instead of broad FTE cuts
Companies that are able to quickly reduce operating cost outperform peers, but operational cost reductions don't necessarily mean "slashing cost". Especially for sales and marketing with the primary responsibility for ensuring continued revenue during the crisis and driving growth during the recovery. Since the 70's recessions have only lasted an average of 12 months and the risk of broad operational cost-cutting (e.g. on FTE) is that it leaves the commercial organisation amputated to take advantage of the uptake that follows.
Together with cutting low performers, sales & marketing leaders should look towards areas where cost can be lowered through operational efficiency gains, without compromising short term revenue and long term growth.
1. Shift selling towards Inside Sales: Avg. customer acquisition costs are 40-90% lower for inside sales compared to traditional field sales. Inside salespeople not only have a lower avg. salary compared to field sales but associated expenses (traveling, accommodation, food, etc.) are cut to zero. As B2B buyers increasingly demand -and are comfortable with virtual interactions instead of face-to-face meetings, a large portion of deal & account management activities can be managed by inside sales rather than field sales, without compromising effectiveness.
2. Insource marketing: By removing agency overhead and margin costs, companies can save as much as 50% of their current agency and content-development costs. Upon starting his job, one CMO at a Nordic professional service company we are working with found the company was paying their agency €100k per year to create their monthly newsletter. As marketing is increasingly enabled by new technology to perform tasks previously too specialized to be done inhouse (e.g. content creation, distribution, performance marketing etc.) the need for agency involvement is lowered. The same activities can be managed in-house at a lower cost, without compromising effectiveness.
3. Strengthen sales & marketing collaboration in revenue operations: Sales & marketing misalignment is estimated to cost B2B companies a whopping $1 trillion per year, from generating content in marketing that is never used by sales, leads that are never followed up on or opportunities lost from poor collaboration. This is why Organizations with good alignment not only achieve 27% faster three-year profit growth, they also close 38% more deals. This starts with a complete mapping of your market-to-order process (revenue operations) and agreement between sales and marketing on activities, roles and responsibilities throughout this process. Large efficiency gains from process optimization can be achieved without lowering selling effectiveness.
Although economic downturns can be a good catalyst for initiating change initiatives, many commercial leaders are already now initiating these commercial development plays, to reap the benefits.
Exhibit 2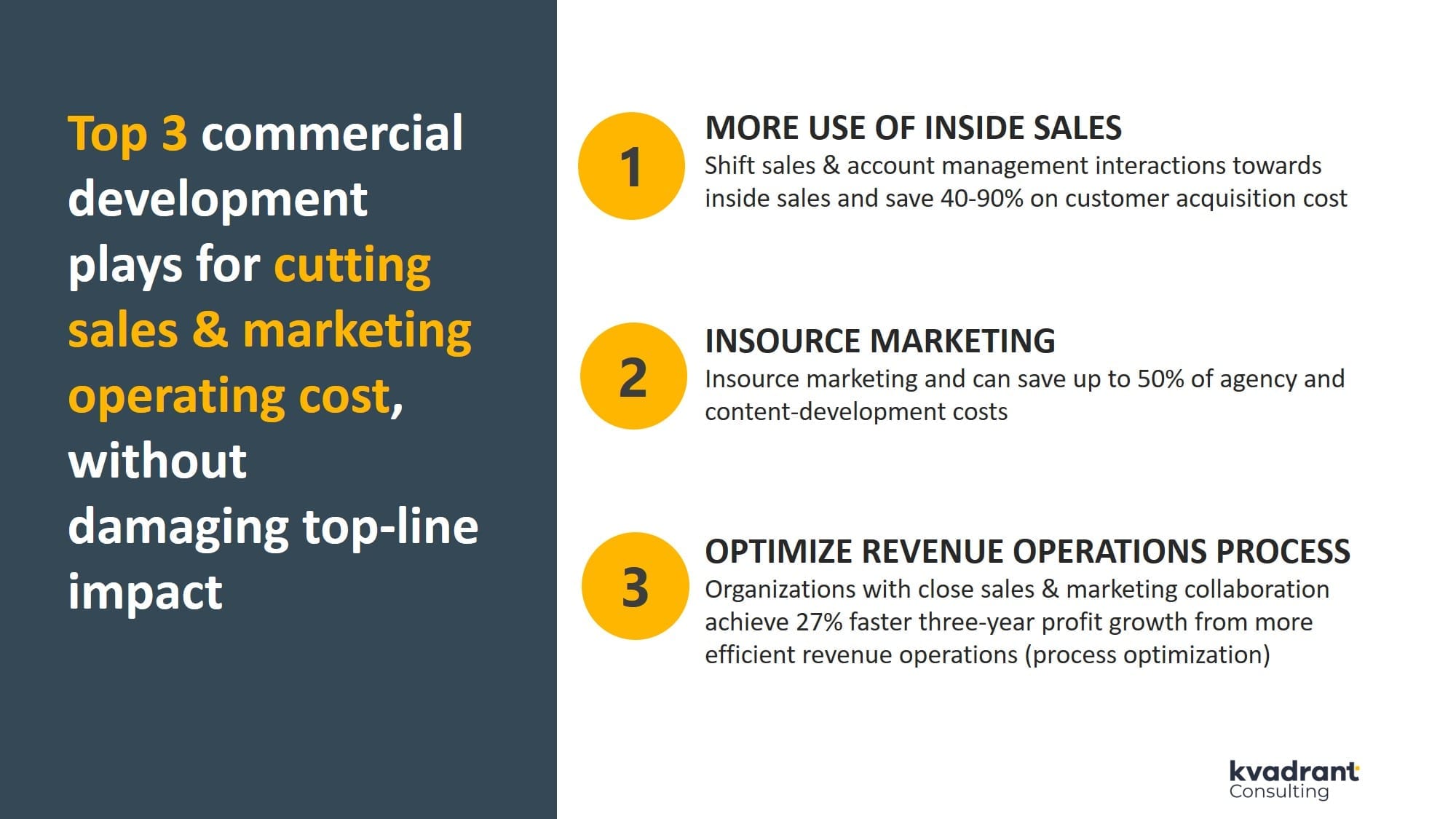 2.
FOCUS: Be obsessed about winning the 20% of accounts & deals that generate 80% of your revenue & sales
Companies that focus on high value customers, fare better during and after recessions. Applying the Pareto principle to sales & marketing, this means that commercial leaders need to focus their attention on keeping 20% of customers that drive 80% of revenue and 20% of deals that drive 80% of growth.
In our experience two commercial development plays stand out as most effective:
Structure & strengthen strategic account management: 60% of B2B companies don't use account planning for the strategic accounts, although this has been shown to deliver significant improvement in win-rates for forecasted deals. Staying close to your company's strategic accounts becomes critical during the more turbulent times of a recession. Although the broad commercial organisation should rally around focus on the top 20% accounts and deals, it is recommended that specific teams are put together around those mega deals & accounts strategically important for the health and future of the company.
Implement a Deal Accelerator for high priority deals: Doing much for the few rather than a little for the many, is not only the mantra of commercial downturn management, but the general principle that should be followed by B2B companies working with big deals. Investing top sales & marketing resources in winning the few selected deals that can make or break the year is critical at all times, but especially when the downturn hits. An effective approach is to have top sales people in the organisation propose 9-12 deal candidates for a beauty contest from which Commercial Leadership and the CEO will choose that 3 candidates based on potential, strategic importance and deal-owner capability. In the Deal Accelerator, a set deal team will receive support on how to accelerate and win high priority deals through bi-weekly deal strategy sessions over a set period of time depending on typical sales cycles.
Exhibit 3
3.
INVEST: Be ready to invest in opportunities on the uptake
As discussed in a previous article of ours, recessions are in fact an opportunity in disguise, for those leaders prepared and able to manage it effectively.
When competitors are sacrificing customer satisfaction for short term budget cuts (amputating their commercial organisation and ability to serve key accounts), there is a great opportunity to invest in focused customer acquisition. Look for signs of discontent to create new opportunities and a beachhead to new accounts.
When competitors are sacrificing sales talent in broad FTE cuts, there is a great opportunity for picking up star-performers. Look for signs of discontent to prospect for new people to your commercial organisation.
Recessions on average last no more than 12 months and the next one will pass too. What matters is how commercial leadership prepares and responds before and during.